Award-Winning Paper Mug Theatre Announce London Transfer of Edinburgh Fringe Hit – A Partnership
September 19, 2019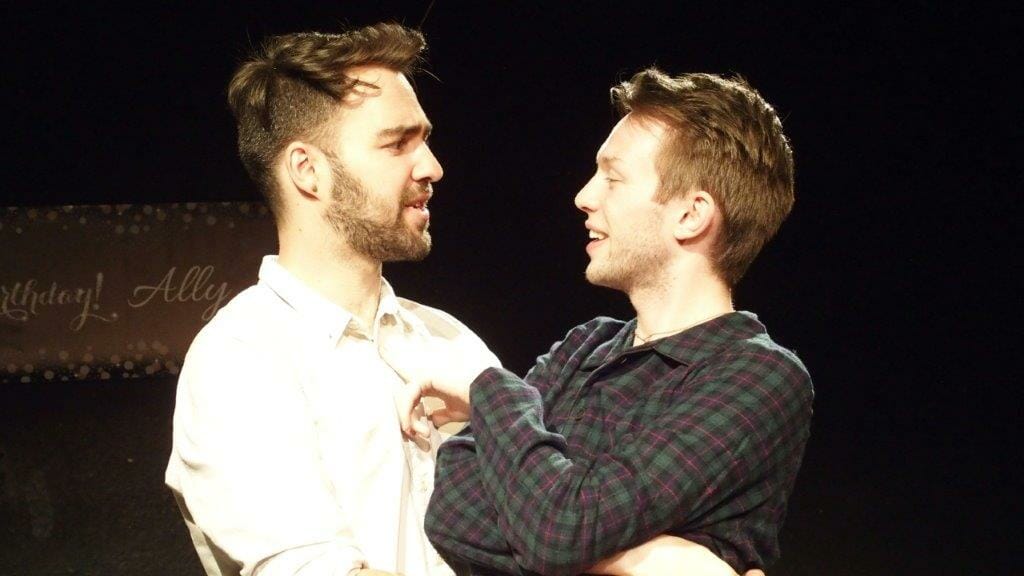 Following a number of successful London previews and a multiple five-star, award-winning run at Edinburgh Fringe 2019, Pick of Pulse Festival, Theatre Weekly's Best Fringe Debut and Stella Wilkie Award winners Paper Mug Theatre have announced a London transfer of A Partnership.
Rory Thomas-Howes' A Partnership, directed by Josh Tucker and starring two LGBTQ+ performers, is a real-time two-hander examining internalised homophobia. Making its first London appearance post-Edinburgh Fringe, this tragi-comic play follows Ally (Ben Hadfield) and Zach (Rory Thomas-Howes) in real-time – the hour before Ally's 30th birthday – finally confronting the issues and lies in their nine-year relationship. Zach's internalised homophobia highlights the strain modern gay men are under to conform to society's ideal relationship, and the pitfalls of trying to be 'normal.'
Examining the mundane, morose and magnificent aspects of love between two men in a non-stop conversation with no scene breaks or time-jumps, A Partnership is a tribute to the importance of honesty in any relationship.
Originally written and performed at Debut Festival 2019, A Partnership has been shortlisted for the Sit-Up Award 2019, longlisted for the Bruntwood Prize 2019, featured on The List's Top 10 LGBTQ+ Shows for Edinburgh Fringe and is produced by the award-winning Paper Mug Theatre.
Paper Mug Theatre was formed in 2019 by three graduates of East 15's BA Acting and Contemporary Theatre. Rory Thomas-Howes won the Jack Petchey Award and the Lilian Baylis Award while at East 15, and was selected to represent the school on the Globe stage at the Sam Wanamaker Festival. Sebastian Gardner won the John Gielgud Award, and is currently assistant director on Meat Lab's Pits. Josh Tucker has recently completed a UK tour of Drip: The Musical, a one-man show by Tom Wells and Matthew Robbins.
A Partnership is at Theatre503 1st – 5th October 2019.
5 Star Reviews
Rory Thomas-Howes' writing is particularly strong, viciously funny in places, shocking and surprising in others – to the point where audience laughter is interspersed with gasps of disbelief.  Yet, this feels like a genuine relationship unravelling in front of us, the characters are so vividly believable and the situation so recognisable that Zach's behaviour affects us as much as it does Ally.
This is in part down to the authentic performances from the central characters.  It is writer, Thomas-Howe who takes on the role of Zach, giving a performance with the kind of passion that can only come from having penned the character in the first place.  Ben Hadfield wonderfully captures each of the emotions that Ally is drawn in to, from exuberance to anger, hurt and confusion.
The piece is beautifully directed by Josh Tucker, who has clearly understood the dramatic highs and lows of the play, giving it a captivating sense of tension while retaining the all-important comedy moments, in such a way that pulls the audience in to the heart of the production.
With so much going on in this hour-long two hander, there could have been moments lost to the bigger themes.  Yet each part of A Partnership comes together perfectly, the comedy balancing the tragedy in a way that only really good writing can achieve. This is an incredibly astute piece of modern theatre, examining a 21st century relationship through the lens of the people living it.  Funny, shocking, and a vitally important piece of LGBTQ+ writing.